Buy Double Sofa cum bed online 
Looking for comfortable yet space-saving beds for your guests?? Try our double sofa cum bed, a comfortable bridge between classical yet modern designs. Choose the best design to suit your home decor from the range of Three Seater Sofa cum Beds offering luxury and comfort at the same time. Most of our mechanisms have more than the basic sitting and sleeping positions and have plenty of variations to offer in our double sofa cum beds. We aim to create beautiful and multifunctional furniture that has a place in every modern urban home. True to their name, our extraordinary convertibles expand swiftly from sleek contemporary sofas to plush beds without any hassle. Intelligently designed with sophisticated mechanisms, our double sofa cum beds come with fitted mattresses at a standard bed height which ensures maximum comfort and support while sleeping.
So you can now maximize and decorate even your small spaces with innovative and compact Sofa cum Beds designed especially for modern-day homes. Woodage presents a wide range of beautifully designed sofa cum beds. Many of them have been inbuilt with added features such as headrests, extendable coffee tables, back inclining options, and revolving functions to ensure that the customer has a wide range to choose from to meet their requirements. We realize that every home is different and offer our clients the option to get their Sofa cum Beds customized to the very last detail starting from design to upholsteries. Our range of double sofa cum beds are designed keeping in mind functionality and space utilization and are ideal for hotels, resorts, guest houses, and residences.
The following are some of the reasons why double sofa cum beds are the best option for modern living:
Space-Saving Design
One of the main benefits of a double sofa cum bed is its space-saving design. Unlike a traditional sofa and bed that take up separate spaces in a room, a double sofa cum bed only requires the space of a single piece of furniture and are designed to be compact, so they don't take up much space when used as a sofa and can be easily converted into a bed when needed. This makes it an ideal solution for small apartments, guest rooms, or other living spaces where space is limited.
The double sofa cum bed is also a great option for those who have limited storage space. Many models come with built-in storage compartments, which can be used to store bedding, pillows, and other items. This makes it easy to keep a room organized and clutter-free.
Durable and long-lasting
At Wood Age we believe that a sofa cum bed should not only be stylish and functional, but should also be built to last. That is why we offer Double sofa cum beds that are made from high-quality materials. Made with high-quality materials and expert craftsmanship, our double sofa cum beds are the perfect solution. With their sturdy frames, supportive cushions, and long-lasting upholstery, you can enjoy your sofa cum bed for years to come. This means you can enjoy your double sofa cum bed for years to come without having to worry about wear and tear. So why settle for a sofa bed that will only last a few months when you can have one that will last for years?
Comfortable and versatility
Another benefits of a double sofa cum bed is its versatility. They provide the comfort of a full-sized bed, with the added bonus of being able to convert into a sofa when not in use. It can be used as a comfortable seating option during the day and then easily converted into a bed at night. This makes it ideal for guests or for families who need a place to sleep in a room that also serves as a living space. This makes them ideal for use as a guest bed, or for those who love to lounge in style. With a range of styles and designs to choose from, you can find a double sofa cum bed that fits your décor and personal style.
Stylish and modern design
In addition to their versatility and space-saving design, double sofa cum bed are also designed to be stylish and modern. Find a variety of styles, from sleek and modern to more traditional double sofa cum bed online at Wood Age, so you're sure to find one that fits your taste. They are a great addition to any living space, providing a comfortable and cozy place to sit or sleep, as well as adding style and sophistication to your room.
Cost-effective
Another benefit of Double sofa cum beds are a cost-effective solution for those who need both a sofa and a bed. Rather than having to purchase two separate pieces of furniture, a double sofa cum bed provides both a sofa and a bed in one compact design. This makes them an economical choice for those who are looking to save money and space. With a range of prices to choose from, you can find a double sofa cum bed price that fits your budget.
Easy to convert
Our double sofa cum beds are easy to convert from a sofa to a bed and back again. This makes them ideal for those who need to switch between the two regularly, as they can be converted with just a few simple steps. They are also easy to store when not in use, freeing up valuable living space in your room.
Request a quote form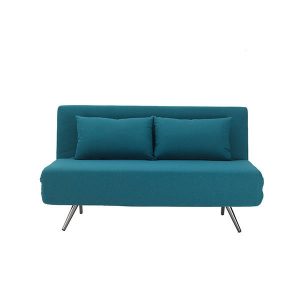 Designed and crafted to complement the smaller rooms, this luxury two-seater sofa bed with golden chrome legs will add a touch of luxury to your space. With multiple back positions, it can be used as anything from an informal sofa to a lounger or a comfortable sofa cum bed.