Comfortable Sofa Cum Bed
Hey, Are you searching for a wooden sofa cum bed in Delhi NCR? Your search gets over here. Sofa cum bed furniture are the ultimate multitaskers of the furniture world, offering the comfort of a sofa and the convenience of a bed in one seamless design. No more sacrificing space for a separate bed or struggling with limited seating options – with a sofa cum bed , you can have it all. These adaptable pieces of furniture effortlessly transform from a cozy sofa to a comfortable bed, providing the perfect solution for small homes, apartments, or guest rooms.
Furniture plays a crucial role in creating the perfect ambiance in our homes. Sofa cum bed , also known as convertible sofas, are becoming increasingly popular due to their versatility and functionality. These pieces of furniture offer a comfortable place to sit during the day and a cozy bed for sleeping at night. You don't have to sacrifice space for a separate bed or struggle with limited seating options. Get the best sofa cum bed in Delhi at Wood Age. We have a variety of sofa cum Beds that are not just stylish but also give you the comfort of a sofa and bed at the same time. We are the best sofa cum bed manufacturers for any type of sofa cum bed requirements. Our aesthetically appealing contemporary designs paired with functionality make these extraordinary convertibles ideal for residences, hotels, resorts, guest houses, and even hospitals. The cozy and vibrant sofa cum bed designs ensure adaptability to different environments with great ease and ensure that you live stylish and smarter with Woodage sofa cum bed suppliers in Delhi. Browse through our stylish range below.
Different types of Sofa Beds
There are several different types of sofa cum beds available, each with its own set of features and benefits. Some of the most popular types include:
Pull-out sofa cum bed: This has a mattress that can be pulled out from under the sofa cushions. The mattress is stored within the sofa when not in use, and can be easily pulled out and set up as a bed when needed.
Convertible sofa cum bed: This can be easily converted from a sofa to a bed without the need for any additional steps. Simply remove the cushions, fold out the mattress, and you have a comfortable bed.
Sectional sofa cum bed: This type of bed is made up of several sections that can be rearranged to create a bed or a sofa. The sections can be rearranged as needed to create a bed or a sofa, making it a highly versatile and flexible option.
At Wood Age we provide all these multipurpose sofas, like the L shape sofa bed or single sofa cum bed
and double sofa cum bed . Our range of furniture gives a luxury furniture aesthetic that would add elegance to your home décor.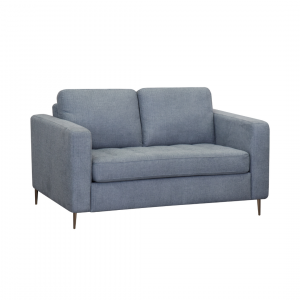 A compact yet statement two seater sofa converts effortlessly into a single bed with roll out mattress to give your space the best of style and function. Ideal as a sofa cum bed for hotels, resorts and residences.